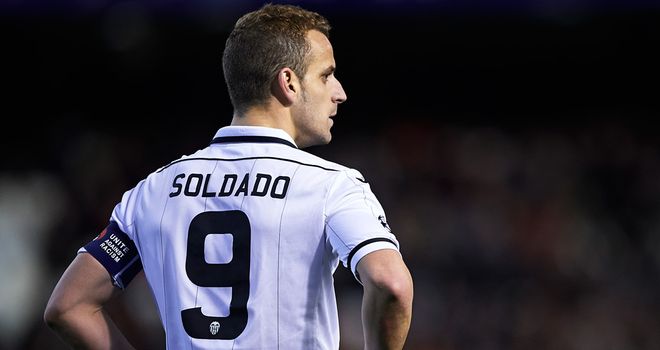 Negotiations with Valencia were stepped up on Saturday after Liverpool's interest in the Spain striker emerged and a deal will be announced in the next few days.
VALENCIA, Spain -- Tottenham has agreed to pay the release clause of Roberto Soldado and will complete a 30 million euro deal for the Valencia striker this week.

Spurs' sporting director Franco Baldini was in Valencia last week to discuss a move for the 28-year-old forward, but the Londoners saw a bid of 26 million euros plus incentives turned down by the Liga outfit.

Tottenham chairman Daniel Levy had hoped to sign the striker for less than his 30 million euro clause, but Spurs moved quickly as late interest from Liverpool emerged and Baldini agreed a deal via telephone with Valencia president Amadeo Salvo on Saturday.

New Che coach Miroslav Djukic had been keen to keep Soldado, but was resigned to losing the striker last night.

"If his exit to Tottenham is confirmed, we will wish him all the luck in the world," the Serb said after his side lost 2-1 to AC Milan in the opening game of the International Champions Cup.

Soldado did not take part in that match after returning from an extended holiday on Saturday morning, having participated in the Confederations Cup with Spain last month. The former Real Madrid striker arrived at training at the same time as his coach in the morning and later watched the game alongside teammate and friend Victor Ruiz in the VIP area at Mestalla.

"I spoke with Roberto this morning. He is a great professional and he will be a huge loss if he leaves," Djukic added on Saturday.

Personal terms between Spurs and Soldado have been agreed, with the striker (who rejected a transfer to White Hart Lane last summer) now keen to move to a more ambitious side.

The two clubs will now settle on how the fee will be paid. Valencia wants two payments of 15 million euros, while Tottenham is keen to spread the outlay over several installments.

Former Valencia director Antonio Sese also hinted that a deal had been struck as he wrote on Twitter: "They tell me that Roberto Soldado will be transferred shortly. They (Tottenham) will pay the release clause. Great management."

Valencia missed out on Champions League football as they finished fifth in La Liga last term and need to recoup funds to pay wages, as well as spiraling debts which have seen the club suspend construction of its Nou Mestalla stadium.

With Soldado on the way out, the Costa Blanca club has agreed a deal to bring in former Spurs striker Helder Postiga from Zaragoza for around 3 million euros, but also hopes to sign another forward this summer.

Soldado has scored 81 goals in 141 appearances since joining Valencia in the summer of 2010 as a replacement for David Villa.