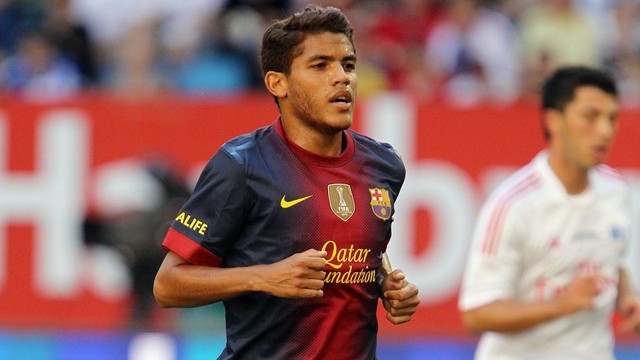 The Mexican international midfielder took to social media to put an end to the speculation that he might be headed elsewhere this season.
After a drama that has played out all summer, Jonathan Dos Santos future is finally sorted: The Mexican international is staying at Barcelona.

"I'm letting you know with a lot of joy that I'm staying at Barca," Dos Santos tweeted from his personal account on Wednesday. "Now my dream of triumphing in Barca is closer than ever."

Dos Santos was on the verge of a move to
Real Sociedad before Tito Vilanova had to leave his post for medical reasons, and it was put on hold until new Barcelona coach Gerardo Martino could assess his players.
Since then Dos Santos has put in some good performances as a starter in Barcelona's preseason, and with Thiago Alcantara gone and Cesc Fabregas the subject of intense interest from Manchester United, the feeling is that the midfielder could get more minutes in La Liga.
The player himself told
Sport
on Monday that Real Sociedad was a good option, but that other teams were also interested. He added that his goal this season is to get more playing time in order to nudge his way into the Mexico squad for Brazil 2014.
"I need more minutes to get on the list, to be important for Barcelona or another team," Dos Santos said. "It's what I'm lacking at the moment to aspire to be in Brazil."
It appears that the Barcelona hierarchy has convinced Dos Santos that he will get that at the Catalan club.
"Thanks to the club and the coach for the confidence they are affording me," Dos Santos tweeted.