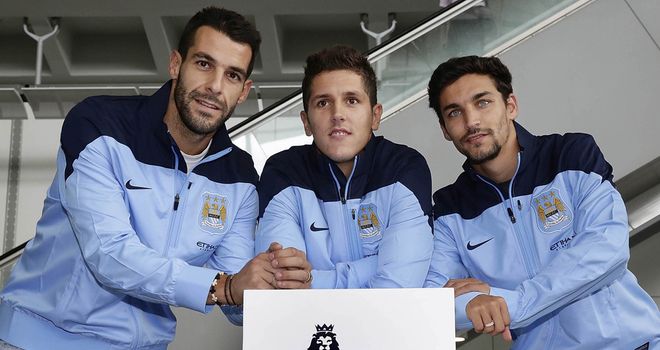 The 27-year-old says that having four strikers within the squad will "help the club succeed", while also insisting that he has the skill to match his physicality
New Manchester City striker Alvaro Negredo is encouraged by the competition for places within the current squad.

Negredo joined Manuel Pellegrini's side from Sevilla in a 25 million euro deal this summer, making him one of four forwards at the club alongside Sergio Aguero, Edin Dzeko and fellow new signing Stevan Jovetic.

But the 27-year-old is unfazed by the prospect of fighting for his place within City's starting XI, instead believing that such competition will "help the club succeed".

"It's an honor to be part of the [City] squad and, when you have a lot of competitiveness, it makes everyone be on the top of their form," Negredo told the Guardian. "This competitiveness between all of the guys – Dzeko, Aguero, Jovetic – will help the club succeed."

Since joining Sevilla in 2009, Negredo scored 70 goals in 139 appearances for the La Liga club, convincing the forward that it was the right time for a move to the Premier League.

"Now I am at the peak of my form," he continued. "Also, this is another league and style of football and I am very confident I will succeed here – not just on an individual level but also in the group.

"I knew of [City's] interest this summer, it came through my agent and was a compliment. I was very happy and I wanted to join. It's a really big club, there is an opportunity to challenge for titles every single year and now I get to play in the Champions League. [Also] I wanted to get experience in the Premier League that I love."

Due to his strength, Negredo was once dubbed the 'Beast of Vallecas' by teammates but the 27-year-old feels he has the skill to match his physicality.

"It makes me laugh when they called me the Beast," he added, "but, yes, I think I am a strong player who can fight and be physical.

"I can be both physical and technical. There are some matches where the physical approach is very important and other games where you can show off your skill."