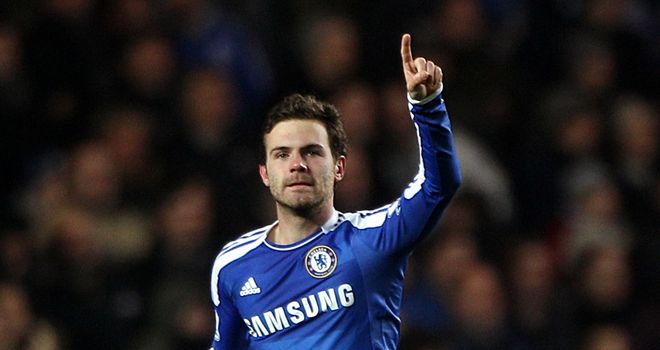 The 50-year-old has precise ideas over how to deploy the Spain star in his lineup next season and is determined to guide Eden Hazard to fulfill his potential.
Chelsea boss Jose Mourinho insists that Spain forward Juan Mata remains firmly in his plans for the forthcoming campaign.

Uncertainty had surrounded Mata's future earlier this summer, but Mourinho is adamant that the Spaniard is very much part of his plans, revealing that he intends to use Mata as a winger who will cut inside from the right.

"Of course [Mata] fits into my plans," the Blues manager told reporters. "I have my idea about him, about where he produces better and where he has more difficulty. We will try to help him perform better in those situations.

"I like wingers coming in on the inside for the penetrative movement, for the pass, for the shot and Juan is the only player we have to do that on the right. On the left we have Hazard, Victor Moses, Kevin De Bruyne, Andre Schurrle ... Juan is also very comfortable playing as a No.10. In between these two positions, he has a lot to give to the team."

The 50-year-old also spoke of his preference for "ordinary" players who give everything for their side, admitting: "I am not the kind of guy who makes life easy for the great players. This kind of player is the last I praise.

"You have to praise the guys who play to their limits, who give everything. They are not superstars, they are just good players trying to support their teams. For me, to praise an ordinary player is easy. For me to praise a top player is not. When a player is different and has more potential than others, he has to use his talent in a good way."

As well as Mata, Mourinho is looking forward to working with Eden Hazard next season, suggesting that he is ready to help him take his performances to the next level.

"The kid has a lot of talent but it's about what he does next," he explained of the Belgian. "He has to go from a great talent to great numbers. How many goals, how many assists, how many winning goals, how many goals in big matches?

"Football is about numbers in a very pragmatic way. I'm ready to help him, I'm ready to work with him."