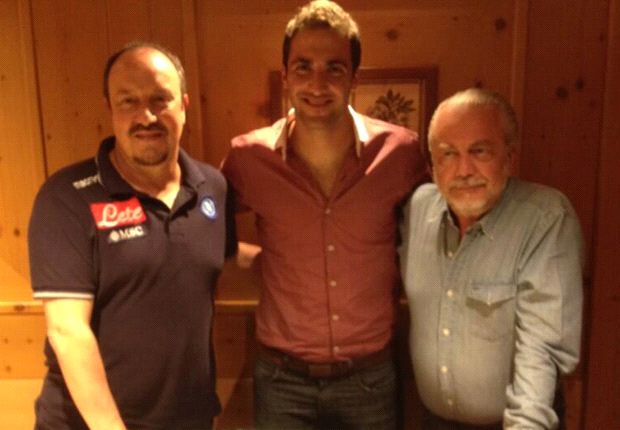 The Argentina striker was mobbed by fans when he arrived in Naples to complete his move from Real Madrid and thousands have secured tickets for his official unveiling on Monday
Gonzalo Higuain's move from Real Madrid to Napoli has sparked widespread excitement amongst the club's fans, with 50,000 supporters set to greet the striker at his unveiling.

The deal, reported to have cost the Azzurri 40 million euros, was confirmed by the club on Saturday with president Aurelio De Laurentiis tweeting a picture of
himself and the striker as the contract was signed.

"Higuain and [Pepe] Reina have passed their medicals and will soon join the rest of the group," the 64-year-old confirmed on Twitter. "On Monday there will be a big party at the San Paolo. You will be able to get to know the new players and the new shirts."

The news of the event at the club's stadium on Monday has prompted a frenzy amongst Partonopei followers. Fifty thousand tickets have already been sold for the unveiling, which also includes entry to the friendly with Galatasaray.

The passionate welcome has drawn comparisons with the arrival of Higuain's illustrious compatriot, Diego Maradona, who signed for Napoli in 1984.

The 25-year-old forward arrives after scoring 122 goals in six seasons in Madrid, while goalkeeper Reina joins on a season-long loan from Liverpool.