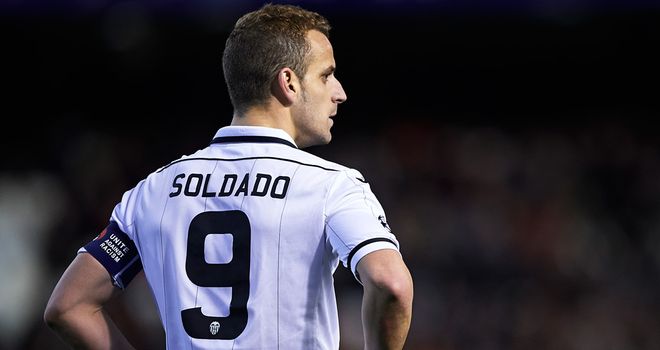 The Valencia coach appeared resigned to losing the striker, who seems set to tie up a 30 million euro move to Tottenham.
VALENCIA, Spain -- Valencia coach Miroslav Djukic admits he is in the dark over Roberto Soldado's possible move to Tottenham but says he will wish the Spain striker "all the luck in the world" if he chooses to swap Mestalla for White Hart Lane this summer.

Djukic saw his side lose 2-1 to AC Milan in the ICC Cup opener in Valencia on Saturday evening without Soldado, who only returned from his holiday earlier in the day after his Confederations Cup exertions with Spain last month.

Valencia has already turned down a 26 million euro bid for Soldado from Spurs, but the 28-year-old now seems set to move as the Premier League side looks likely to pay his release clause of 30 million euros.

"I haven't spoken to the club," Djukic told the media after watching his side edged out by Milan. "Whatever happens [will happen]...

"I spoke to Roberto this morning. He is a very good professional and if he decides to leave we will wish him a lot of luck and if he chooses to stay with us then we will be delighted because he is a great professional and he can help us a lot. But if his exit to Tottenham is confirmed then we will wish him all the luck in the world."

Djukic, who joined the club from Valladolid earlier this summer, believes Valencia can be competitive next season - with or without Soldado.

"We will keep working," he added. "We are Valencia [and] without Djukic, without Soldado, this is [still] a big club. If he decides to leave then we will bring in someone else. It will be a big loss but we will bring in another player and keep moving forward."

Midfielder Dani Parejo, who scored the second-half goal which gave Valencia hope of a fightback, also claims the club can cope without the star striker.

"We have other teammates who are good players, like Paco [Alcacer]," he explained. "But Roberto every season scores 22 or 23 goals and that guarantees you are high up in the table. If he goes then others will come in. He is a great footballer but we have other good players as well."

Valencia has been linked with former Tottenham striker and Portuguese international Helder Postiga as a possible replacement for Soldado.

"He is an experienced striker who knows La Liga, has scored goals and is an international player - any club would be interested in him," Djukic said.