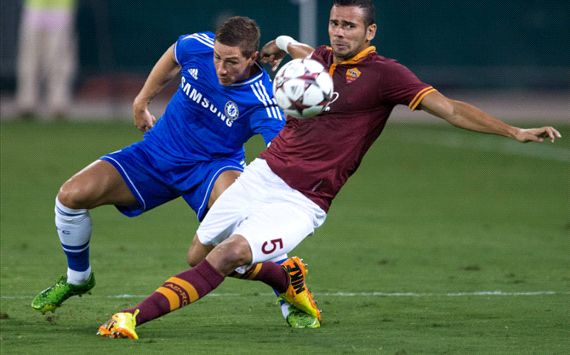 The Giallorossi struck early through a Mark Schwarzer howler, but the Londeners came back to earn the win at RFK Stadium.
Two second half goals gave Chelsea a 2-1 win over Roma in a friendly at RFK Stadium on Saturday night.

The Italians opened the scoring thanks to a Mark Schwarzer howler, but Chelsea struck back with second-half goals from Frank Lampard and a late winner from Romelu Lukaku.

Chelsea got off to a flying start as Roma goalkeeper Morgan de Sanctis had to be alert in the second minute to deny a Michael Essien volley off a great layoff from Fernando Torres.

There wasn't much action until 20 minutes later, when Chelsea goalkeeper Schwarzer gift-wrapped Roma the opener. The Australian misplayed a
routine back pass, allowing the ball to bounce off his post and back to Eric Lamela, who slammed home from two yards away.
Schwarzer would partially make amends 10 minutes later, when he got down quickly to save a Pablo Osvaldo effort that was bound for the bottom corner.
The Italians would frustrate their opposition for the remainder of the half, save for one neat spell of combination play before the half between Kevin De Bruyne and Andre Schurrle. The German's shot flew just over the goal with De Sanctis at full stretch.
Jose Mourinho made wholesale changes at the half, and it appeared to turn the tide in Chelsea's favor, as the Blues pressured the Roma goal in the first 15 minutes of the second half, although the Italians' defense held firm.
It didn't take long for the pressure to pay off though. Demba Ba's neat layoff found Lampard, who was left with a wide open look from the top of the arc. The veteran midfielder made no mistake, cracking a low drive into the near corner for the equalizer.
Chelsea carried the balance of play for the next 15 minutes, but Roma had chances to take the lead as well, but the Giallorossi were let down by a lack of cutting edge around the goal.
With only minutes remaining, Chelsea found a winner. Eden Hazard made the play happen, snaking his way past the Roma defense on the end-line before pulling the ball back for Demba Ba. The striker found his forward partner Lukaku, whose deflected shot found its way into the back of the net from close range.