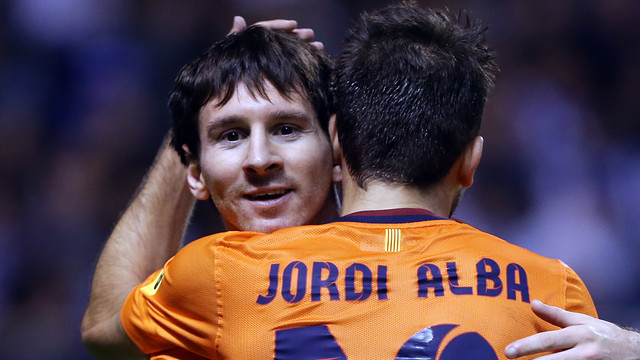 The fullback insists the Argentine is the undisputed No. 1 player in the world and admits he has not seen much of Real Madrid target Gareth Bale in action.
Jordi Alba believes Barcelona teammate Lionel Messi is "priceless" and will be the world's best player for as long as he wishes.

Blaugrana president Sandro Rosell claimed earlier this summer that the Argentine ace would command a fee of around 580 million euros should any club attempt to pry him away from Camp Nou -- while also adding that he would never truly sell him -- and Alba has made it clear that the four time Ballon d'Or winner is out of reach for any potential suitor.

"We're talking about the best player in the world. For us, he doesn't have a price. He is No. 1. No player can stand up to him, and he'll continue being No. 1 for as long as he wants," Alba told Marca.

Real Madrid has been linked with a world-record bid for Tottenham star Gareth Bale in recent weeks, but Alba admits he has not seen enough of the player in action to comment on the proposed 115 million euro bid.

"If I'm honest, I haven't seen him play a lot, but I know he is a good footballer," Alba said. "In each case it depends on the needs of each team, what the club is willing to pay and what the other demands. Then time will tell if a player has been cheap or expensive."

Alba also praised new coach Gerardo Martino for the way he has taken to the role in the Barca dugout, admitting he is happy to work under those who shun the limelight.

"Barcelona has always had calm coaches," Alba said. "We are happy with Tata Martino, as with Tito Vilanova. He is a quiet coach who only wants to talk about football and what happens on the pitch."

"I don't think we're going to change our style nor our way of playing very much. The truth is I like how we play."