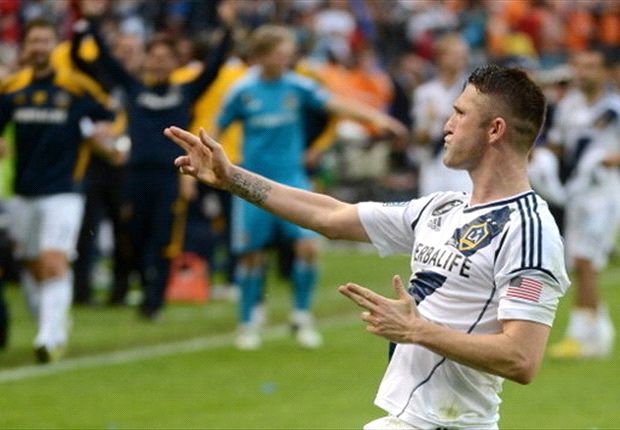 Los Angeles has stunned dual-reigning Serie A champions Juventus 3-1 in front of vocal home crowd at the International Champions Cup.
The LA Galaxy stunned Juventus on Saturday night, taking a 3-1 win over the Italian giant in the International Champions Cup.
The Galaxy took a deserved lead with less than 10 minutes remaining in the first half when Omar Gonzalez delicately chipped Juventus goalkeeper Gianluigi Buffon but the visitors from Turin equalized soon through
Alessandro Matri.
As the local fans at Dodger Stadium got more excited after halftime, the home side hit the front again thanks to a goal from captain Landon Donovan and although the Galaxy rode their luck, they held on for a famous win with Robbie Keane adding a late third goal.
After some early nerves on Saturday, the Galaxy got on top with Donovan and Robbie Rogers producing a flurry of goal-scoring chances for the Galaxy.
Donovan was tripped from behind inside the D at the top of the penalty area, while Rogers played a one-two with his captain before stabbing his shot wide.
The winners of the past two MLS Cups continued to pour forward with Donovan forcing a top save out of Buffon in the 10th minute, while on the quarter-hour mark, Rogers got free on the left side of the box but his shot was deflected away for a corner.
Galaxy hit the front in the 36th minute when Rogers linked with Juninho before the latter fired a pass through Juventus' defense to the galloping defender Gonzalez, who lifted the ball over the onrushing Buffon.
The Galaxy were flying but Juventus stunned the home side three minutes later when Matri, who had missed two chances in the opening five minutes, slammed home the loose ball from close range after Galaxy goalkeeper Brian Rowe had saved Fabio Quagliarella's effort.
The score at 1-1 until the break and seven minutes after halftime the home fans were screaming for a penalty after Rogers was bundled over in the box but the referee ignored the pleas.
The Galaxy forgot that disappointment on the hour mark when Marcelo Savas knocked the ball away from Arturo Vidal in Juventus' defensive half, allowing Keane to take possession and the Irish forward set up Donovan for a simple tap-in.
While Juventus should have had a penalty with 14 minutes remaining for Savas' clear trip on Sebastian Giovinco, but the Galaxy completed a well-earned victory in the 89th minute when Keane pounced on Andrea Pirlo's short back pass and flicked the ball with the outside of his right boot past Buffon and into the bottom corner of the net.