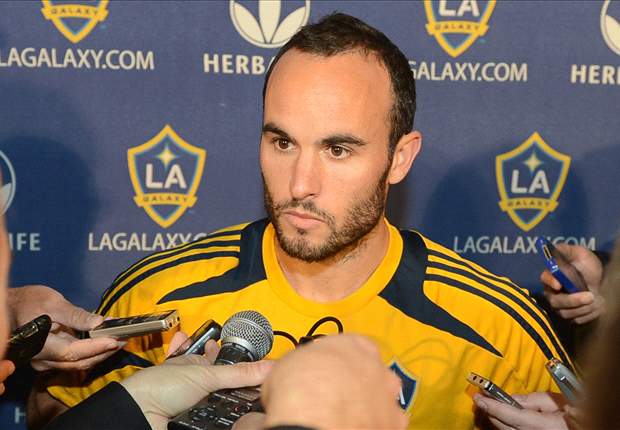 The longtime USA goalkeeper hopes to see the nation's all-time leading scorer -- who has missed the entire CONCACAF hexagonal thus far -- back in World Cup qualifying next month.
Count U.S. goalkeeper Tim Howard among those who would like to see Landon Donovan back with the Americans' World Cup qualifying squad.

Donovan has missed out on the entire CONCACAF qualifying hexagonal thus far -- in part because of his self-imposed hiatus this past winter -- but after his showing in the CONCACAF Gold Cup, Howard is hoping that the USA's all-time leading scorer and assist man recaptures his place among Jurgen Klinsmann's top team.

"I think we're at our best when we have our best players available, and quite honestly when you start to stack the chips up Landon Donovan is one of our best players," Howard said on a conference call with reporters Thursday. "I think that's not in question. How he fits in and where the manager Jurgen Klinsmann sees him, that's obviously not down to me.

"I just saw him recently, and I'd be excited to have him be in our World Cup qualifying campaign, but that's up to the manager and how he sees the dynamic. If you're asking me if he's still a top a player, he's still a top player.

"Trust me, if he lines up on the other side to say maybe to Clint Dempsey or another winger, teams are going to be fearful and are not going to want to see him. It's definitely a big plus for us."

Howard also addressed Dempsey's surprise move from Tottenham to MLS, where he signed with the Seattle Sounders last weekend. While the wide-ranging consensus is that the 30-year-old Dempsey still had plenty to offer in England's top flight, Howard said he is not worried about the move affecting Dempsey's form and that only Dempsey can judge whether it was the right move or not.

"I know Clint, and I know his family," Howard said. "If this is a decision that he is happy with, then I'm excited for him. It's great for MLS and Seattle, and apparently it's great for Clint, otherwise he wouldn't have done it.

"I'm a firm believer that you get one career and one career only, and you have to do what's best for you and what's best for your family, and the only person that can make those decisions and that judgment is Clint himself."

As for the USA's other premiere attacker, Jozy Altidore will be seeing plenty of Howard in the Premier League as he suits up for his first campaign at Sunderland. Howard is expecting big things from Altidore in his second go-around in England's top flight after his stint with Hull City in 2009-2010 yielded just one goal.

Altidore found a home at AZ Alkmaar, scoring 50 goals in all competitions over the last two seasons, and Howard believes that form will carry over into his next venture -- although he hopes that it stays out of the Black Cats' meetings with his Toffees.

"Jozy's been in great form, not only just recently for the national team, but also last season and possibly the season before in Holland," Howard said. "Strikers, that's what they get paid to do, bang goals in and get on hot streaks, and I think he'll do well in the Premier League.

"He's a big boy, he's got good pace, he likes to get in front of the goal and finish. He's strong enough, particularly in the Premier League, to hold balls up and bring the team into play, so I don't think he'll have any problems at Sunderland. In fact, I think he'll do really, really well.

"Hopefully he doesn't do great against Everton, but the rest of the season will be good for him to keep in that good form, because heading into a World Cup, he's our money maker, he's a guy we have to ride all the way, so I look forward to him having a great year."