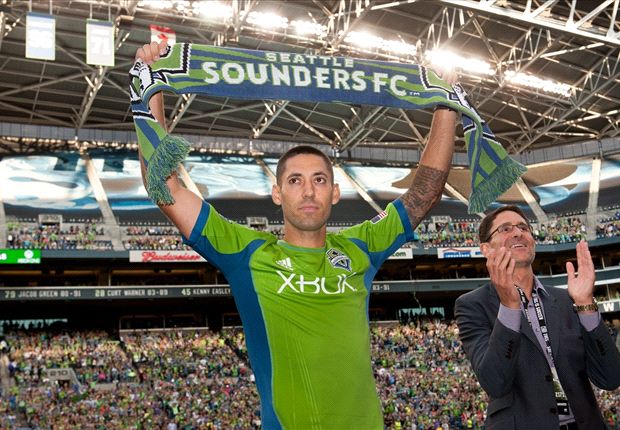 The forward is thrilled at the prospect of playing in his homeland while still in the prime of his career following his switch from Tottenham.
Clint Dempsey is relishing the chance to return to MLS following his move from Tottenham to Seattle Sounders this week.
The United States national team captain was unveiled in front of a packed crowd at the Sounders' CenturyLink Field before their home fixture against FC Dallas on Saturday after the club had confirmed a
transfer believed to be in the region of $9 million.
Dempsey spent just 12 months at White Hart Lane following his switch from Fulham, but he is thrilled at the prospect of returning to his homeland while still in the better years of his career.
"I am very excited about coming back to the MLS and thrilled to be joining Sounders FC," Dempsey told the club's official website. "Having recently played in Seattle with the national team, I experienced the incredible atmosphere and the passion from the supporters first-hand. It's going to be an honor to represent the fans in Seattle.
Dempsey was a halftime guest on the television broadcast of the Sounders' 3-0 victory over FC Dallas, and he explained some of the reasoning that went into his decision.
"This is the league that gave me the opportunity, gave me the chance to be a professional, I'm happy to come back in my prime and make a difference and not (be) coming back when I'm past it," Dempsey said. "Going into the season I thought I was going to be at Tottenham but MLS and Seattle Sounders have moved mountains to get me here and I'm excited to be back in America.
"The ideal situation is to come in and straight to scoring goals, hopefully it'll be a smooth transition."
Because Dempsey will occupy a Designated Player slot, he did not have to come back to the league through the allocation order, which is typically reserved for returning U.S. national team players or returning players who were previously sold by the league for a fee.
Dempsey's previous MLS experience came during a three-season spell with the New England Revolution where he was named rookie of the year in 2004.