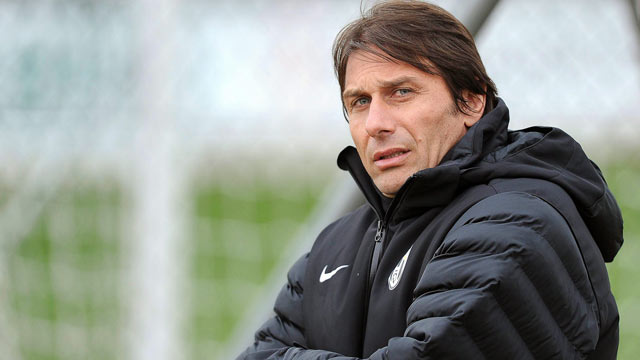 The coach was proud of his side's 4-0 win over Lazio in the Supercoppa Italiana, while Vladimir Petkovic apologised to fans for the "naive" showing
Juventus coach Antonio Conte has praised his team "writing history" after beating Lazio to win the Supercoppa Italiana on Sunday.
The Scudetto winners were 4-0 winners over Lazio at the Stadio Olimpico, with Paul Pogba, Giorgio Chiellini, Stephan Lichtsteiner and Carlos Tevez scoring for the Bianconeri.
Conte's side had previously struggled to notch up victories in pre-season, including finishing last of eight teams in the
International Champions Cup with three defeats, but he is proud of his squad for turning up in the final game before Serie A starts.
"In the press conference yesterday I said I was relaxed because I know my players and above all what they are like as men," Conte told Rai Sport.
"I knew we'd face this one-off match in the right way. It is one game, there is no tomorrow and you have to do it today.
"We continue to write history, these players put in a great performance and it was a deserved victory.
"Don't forget we only actually lost one match in 90 minutes [in pre-season], against LA Galaxy. We know that we still have to shake off the heavy pre-season training work, but we deserved the win and I'm very happy."
Lazio coach Vladimir Petkovic apologised his side's fans for what he admitted was a "naive" performance from his players, but he hopes that the Biancocolesti can use the humbling to push on to better things this campaign.
"It was a psychological collapse and with that blackout we conceded another two goals in quick succession," Petkovic said. "We let go after an avoidable second goal and should have stayed in the shape we prepared before the game, but were naive.
"Juve didn't create much until the second goal. We conceded an avoidable goal from a dubious free kick and Juventus were smart. They deserve credit for that.
"We certainly have to get our feet back on the ground. We tried to do that after winning the Coppa Italia final and must do it again now. We were perhaps a little too confident against a great Juve side when we weren't 100 per cent fit."
Juve face Sampdoria away from home to open their title defence on Saturday, while Lazio host fellow European football-chasers Udinese at the Stadio Olimpico.